Bangladeshi ferry capsizes, death toll rises to 48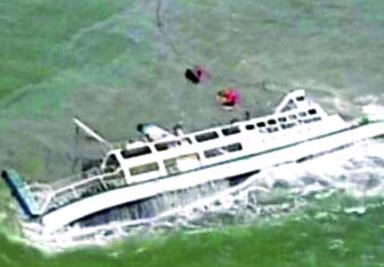 At least 48 people, including seven children and 15 female, drowned as a launch carrying over 150 passengers capsized in the Padma river in Manikganj after being hit by a cargo trawler this morning.
Divers recovered 48 bodies, Rakibuzzaman, officer-in-charge (OC) of Shibaloy Police Station, told our Manikganj correspondent around 9:00pm. The rescue operation was going on, the police official said. The identities of the deceased could not be known immediately.
Of the victims, a six-month-old girl was rescued from the river but she was declared dead at a local hospital, the OC said.
The launch, ML Mostafa, sank into the river after the cargo vessel, Nargis-1, hit it around 11:45am, our Manikganj correspondent reports quoting Harun or Rashid, assistant superintendent of police (Manikganj-Shibaloy circle).
Police seized Nargis-1 and arrested its master Iqbal and his assistant Shahidul.
Soon after the accident, Bangladesh Inland Water Transport Authority, Bangladesh Inland Water Transport Corporation and naval police jointly started a salvage operation and rescued at least 60 passengers.
Later, divers of local Fire Service and Civil Defence joined the rescue operation.
"We are continuing our search for the missing passengers," OC Rakibuzzaman told The Daily Star.
Rescue vessel Hamza started its journey from Mawa towards the accident site to salvage the sunken vessel, said control room set up on the bank of the river.
ML Mostafa was going to Daulatdia from Paturia while Nargis-1 was heading for Baghabari in Sirajganj.