Bangladesh's ruling party leads after violent vote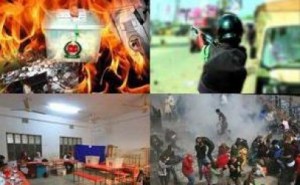 Bangladesh's ruling Awami League party was leading Monday with 232 seats in a national election marred by violence and boycotted by the opposition amid concerns by the international community that the process was deeply flawed.
The Election Commission had not provided official results, but preliminary results reaching the commission showed that Prime Minister Sheikh Hasina's Awami League party bagged 105 seats among 147 constituencies where voting took place Sunday, when at least 18 people were killed in election-related violence.
Hasina's refusal to heed opposition demands to step down and appoint a neutral caretaker to oversee the election led to the boycott, undermining the legitimacy of the vote. Opposition activists have staged attacks, strikes and transportation blockades in unrest that has left at least 293 people dead since last year.
The opposition boycott means that elections for another 153 seats went uncontested, with Awami League taking 127 seats.
Jatiya Party, a partner of Hasina's current government, took 32 seats while 13 independent candidates won.
The results mean Hasina will face no problem to forming the next government as only 151 seats are needed for a majority to form a new government.
Turnout was about 22 percent, down from 87 percent in the last vote, with officials saying the violence and boycott by the opposition kept voters away.
On Sunday, police fired at protesters and opposition activists torched more than 100 polling stations amid escalating tensions that have plagued the South Asian nation's 10th parliamentary election.