Bilawal graduates from Oxford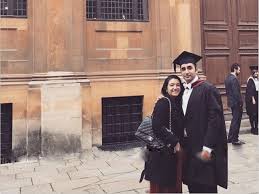 Co-chairman Pakistan Peoples Party, Bilawal Bhutto has graduated from Oxford University and got his Masters degree.
Following the footsteps of his grandfather Zulfiqar Ali Bhutto and mother Benazir Bhutto, Bilawal also completed his undergraduate from Oxford University.
Bilawal is being groomed to take over the party's reins from the last few years but now a days he is off the screen and residing in London. Bilawal didn't attend the last death anniversary of his grandfather Zulfiqar Ali Bhutto on April 4 in Garhi Khuda Bux.
Rumours have also been surfacing from the last few months about the clashes of Bilawal and his father, Zardari suggesting that the two did not agree over party matters. However, both the leaders have rejected such rumours saying it is just a hype created by the media.