Bill Gates, Angelina Jolie among most admired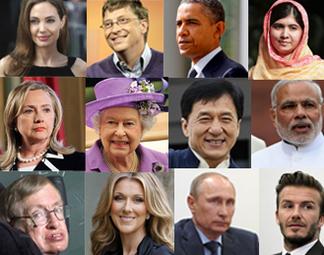 Move over political leaders. It seems that achievers who turn humanitarians are much more admired than world leaders.
This is according to a new global YouGov poll of 25,000 people in 23 countries. And Microsoft founder Bill Gates and Hollywood star Angelina Jolie top the list for the most admired men and women.
Since retiring as chairman of Microsoft, Gates has donated billions of dollars towards expanding educational opportunity and eliminating poverty around the world.
Jolie, who was one of the highest-paid actresses in Hollywood, promotes humanitarian causes and serves as a Special Envoy for the United Nations High Commissioner for Refugees.
US President Barack Obama was ranked the second most admired man with Chinese President Xi Jinping close on his heels. The Chinese president though ranks highly at home in China whereas Obama ranks among the top 10 in almost every country.
Nobel laureate and Pakistani activist Malala Yousafzai has been picked as the second most admired woman. Former US secretary of state Hillary Clinton comes in third followed by Britain's Queen Elizabeth, the world's longest-reigning monarch.
Popular Hong Kong actor Jackie Chan scored highly across Asia, enough to make him the fourth-most admired man in the world — ahead even of Narendra Modi, India's newly minted Prime Minister who swept the polls recently.
Award winning physicist Stephen Hawking made it to seventh place. Footballer David Beckham comes in ninth, tied with billionaire investor Warren Buffet and narrowly ahead of Russian President Vladimir Putin and Pope Francis.
Celebrities are better admired than politicians it seems, as singer Celine Dion and actor Julia Roberts rank higher than Myanmar's Aung San Suu Kyi and German Chancellor Angela Merkel.
The top 20 also includes Taylor Swift at 12 and Beyoncé Knowles at 17.
In December 2014 YouGov, a leading market research firm, gathered open-ended nominations from panelists across 34 countries, asking them a simple question — "Thinking about people alive in the world today, which [man or woman] do you most admire?" These nominations were then used to compile a list of the 25 men and 25 women who received the most votes and were named in at least two countries. An additional five popular local figures were added to the lists for individual countries.
In January, 23 of the 34 countries were polled again in representative surveys, where respondents were asked two questions: "Who do you truly admire?" and "Who do you most admire?" The responses were then weighted on the basis of representations and a final score calculated.