BNP boycotts 3 city polls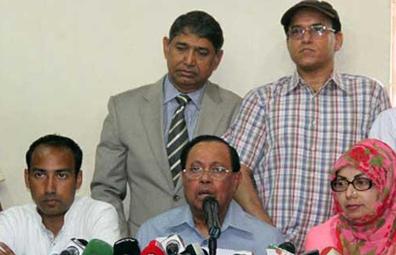 All three BNP-endorsed mayoral candidates for Dhaka north and south city corporations and Chittagong City Corporation have pulled out of the race alleging massive vote rigging.
A policy maker of the main political opposition, also a former law minister, Moudud Ahmed, said at a press briefing Tuesday afternoon: "We hereby withdraw from the polls. We reject these polls, they have turned into a farce."
Flanked by BNP-backed mayoral candidate for Dhaka north Tabith Awal and Afroza Abbas, wife of Dhaka south candidate Mirza Abbas, Moudud alleged that the ruling Awami League had usurped the citizens' right to vote hours after the party's Chittagong unit made a similar call rejecting the elections.
BNP's Chittagong mayoral candidate Manjur Alam also announced his retirement from politics when rejecting the polls.
Alleging widespread rigging and irregularities Moudud said: "The polls have become meaningless. He said ruling party men had forcibly taken over almost all the polling centres in Dhaka.
"Local Awami League leaders and activists have assaulted our agents and barred them entring polling centres with the help of obliging law enforcement agency members and a submissive Election Commission."
"Under the circumstances, we have decided to boycott the farcical polls," Moudud declared.
He said: "We participated in the polls as part of our ongoing campaign to restore democracy. But vote rigging has already proved that restoring democracy is impossible under the Awami League government."
Criticising the Election Commission, he said: "We had feared that the election office would not perform its duty properly in order to satisfy the government."
"We requested the commission authorities several times to ensure a level-playing field but to no avail.