US-Bangla plane crash
Bodies handed over to relatives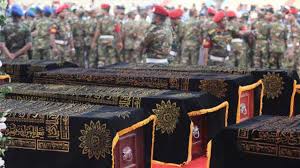 The bodies of 23 US-Bangla plane crash victims were handed over to their respective families after the 2nd namaz-e-janaza at the Army Stadium in the capital on Monday.
US Bangla Airlines will provide the transport facilities to carry the victims, who were killed in US-Bangla plane crash in Kathmandu, said Kamrul Islam, general manager, marketing support and PR department of US Bangla Airlines.
The namaz-e-janaza was held around 5:25pm.
Earlier, a cargo plane of Bangladesh Air Force, carrying the bodies, reached the Hazrat Shahjalal International Airport in the city at 4:00pm.
Road transport and bridges minister Obaidul Quader and civil aviation and tourism minister Shajahan Kamal received the bodies at the airport.
The bodies then were taken to the Army Stadium for the second namaz-e-janaza.
President's military secretary Maj Gen Md Sarwar Hossain first placed a wreath on the coffins on behalf of president Abdul Hamid.
Also, road transport and bridges minister Obaidul Quader placed wreaths on the coffin on behalf of prime minister Sheikh Hasina and the party while speaker Shirin Sharmin Chowdhury placed a wreath on behalf of the parliament members.
The first namaz-e-janaza was held at Bangladesh Mission in Kathmandu at 9:00am on Monday.
A total of 23 bodies were identified till Sunday. Their respective passport numbers are provided in parentheses.
The names of the victims along with their passport numbers are Foysal Ahmed (AG7611296), Bilkis Ara (BC0049030), Akhtara Begum (BQ0966082), Begum Hurun Nahar Bilquis Banu (BL0077261), Nazia Afrin Chowdhury ( 0C0196215), Md Rokibul Hasan (BF0245028), Sanzida Huque (BL0129840), Md Hasan Imam (BL0077270), Meenhaz Bin Nasir (BL0948957), Akhi Moni ( BA0546584), F H Priok (BE0269054),Tamarra Prionmoyee (BR0896359), Md Motiur Rahman (BA0594388), S M Mahmudur Rahman (BA0594388), Tahira Tanvin Shashi Reza (BB0778372), Umme Salma (0C5084403),Aniruddha Zaman (BP0122973), Md Nuruz Zaman (BF0621111), Md Rafiquz Zaman (BL0601965), pilot Abid Sultan (BE0760912), co-pilot Prithula Rashid (BF0430528), crew Khwaja Hossain Mohammad Shafey (AF3028136), crew Sharmin Akhter Nabila (BE0925527).
The three bodies are yet to be identified. They are Alifuzzaman (BQ0626689), Pias Roy (BC0759899) and Mohammad Nazrul Islam (BH0461552).
At least 49 people, including 26 Bangladeshi nationals, were killed as the US-Bangla Airlines aircraft crashed and burst into flames at Tribhuvan International Airport in the capital of Himalayan county Nepal on Monday last.