Boris Johnson in BD to meet Rohingya refugees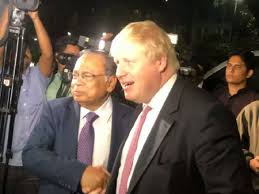 British Foreign Secretary Boris Johnson is now in Bangladesh with a view to visiting the Rohingya refugees and witnessing their plight first hand.
His visit comes amid global calls to ensure safe and voluntary return of Rohingyas as Bangladesh and Myanmar has signed deals to start the repatriation.
Notably, the British Foreign Secretary is scheduled to visit Myanmar on Sunday.
Boris Johnson arrived in Dhaka on Friday afternoon and was received at Hazrat Shahjalal International Airport by foreign ministry's Secretary (bilateral) Kamrul Ahsan, Director General of the Europe Wing Mohammad Khorshed Alam Khastagir and British High Commissioner in Dhaka Alison Blake.
Arriving in Dhaka, Johnson went to pay a call on his Bangladeshi counterpart AH Mahmood Ali at 7:30pm.
During the meeting, Dhaka expects an announcement on the lifting of the UK's ban of direct cargo flights from Dhaka.
On Saturday, Johnson is expected to travel to the southeastern district of Cox's Bazar to visit the Rohingya refugee camps.
The British Foreign Secretary is also expected to meet Prime Minister Sheikh Hasina before heading to Myanmar the same day.
There are now more than 1 million Rohingyas in Bangladesh after nearly 700,000 fled violence in Myanmar that flared up in late August last year.
The British government, MPs of the House of Commons, political parties and the people have raised a strong voice against the oppression on the Rohingya people by Myanmar military and pursued the issue within the Security Council.
The UK has also extended £59 million assistance since August 25 till date to help the Rohingya refugees in plight.