Britain's fattest man dead at 33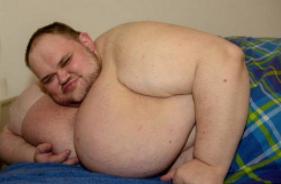 Britain's fattest man, who weighed 412 kg, was found dead in his apartment in Kent county, media reported on Monday.
Carl Thompson, 33, died a few hours after he ordered an apple crumble and ice cream from his favourite takeaway on Sunday, Daily Mail reported.
Emergency services needed several hours to remove Thompson's body from his home. They used a crane to carry his body out of the apartment.
Thompson had been housebound for more than a year. Doctors warned that he needed to lose 70 percent of his weight to survive. He consumed around 10,000 calories a day.
In the weeks before he died, the owner of his favourite takeaway, who would deliver food to his bedside, had said that Thompson reduced the number of dishes he bought to lose weight.
When his mother died of a brain tumour in 2012, Thompson turned to junk food as a means of coping with his grief — despite already being obese.
He relied on disability allowances for money and had not worked since the age of 17.
He spent roughly 200 pounds ($316) a week on takeaways and online food shopping.
Thompson spent the last few years in and out of hospital, where he was treated for a range of ailments, including septicaemia.