British Airways plane catches fire in Las Vegas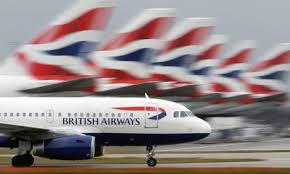 A London-bound British Airways jet caught fire on Tuesday as it was preparing to take off from Las Vegas, prompting the crew to abort takeoff and evacuate terrified passengers.
"There were 159 passengers and 13 crew on the flight," McCarran International Airport in Las Vegas said.
It added that seven people on board were treated for minor injuries.
The Federal Aviation Administration said the fire broke out in the left engine of the 257-seat Boeing 777 shortly after 4:00 p.m. (2300 GMT) and the crew immediately aborted takeoff and ordered an evacuation.
"Passengers deplaned on the runway using emergency slides and (were) bused to the terminal," FAA spokesman Ian Gregor told AFP.
He said a probe was underway to determine the cause.
An AFP correspondent at the airport said the blaze was quickly put out by some 50 firefighters who rushed to the site within minutes along with other emergency vehicles.
Passengers described scenes of panic on the plane with one witness saying there was "a lot of screaming" as fumes filled the cabin and the crew deployed the emergency slides.
Some of the passengers posted dramatic images and videos that showed plumes of smoke and flames engulfing the aircraft.
"Just got evacuated from our flight#BA2276 plane caught fire somehow omg," passenger Dominic Worthington said on Twitter.