British mosques hold open day after Paris attacks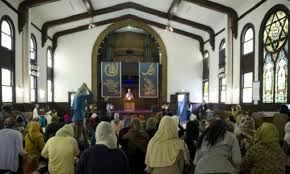 Some 20 mosques in Britain were opening their doors to the public Sunday in an unprecedented gesture of reassurance following last month's Islamist attacks in Paris.
Visitors will be served tea and cakes by members of the mosque community who will answer questions about Islam, the Muslim Council of Britain (MCB) umbrella group which is organising the initiative said in a statement.
Participating mosques include Finsbury Park in north London, where Abu Hamza — jailed in the US last month for the deadly kidnapping of Western tourists in Yemen plus terrorism offences — was once imam.
The Finsbury Park Mosque has since undergone a change of leadership and ethos and now stresses community relations and interfaith dialogue.
But in the wake of the Paris attacks which killed 17 people, it has received a string of threatening letters and emails, its secretary-general, Mohammed Kozbar, told Sky News television recently.
Prime Minister David Cameron's government sent a letter to Muslim leaders following the Paris attacks urging them to "explain and demonstrate how faith can be part of British identity" and suggesting there was "more work to do" in fighting extremism.
This prompted an angry response from the MCB, which questioned whether the government was aligning itself with the far-right by suggesting that Muslims were "inherently apart from British society".
Around five percent of people in England and Wales are Muslim, according to a 2011 census, and there are around 1,700 mosques across Britain.