British Muslim overcomes racism with kindness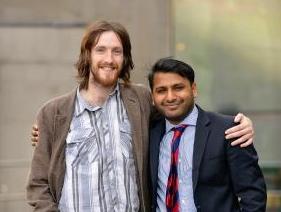 A British Muslim man from the city of Bradford has demonstrated a superb example of how to fight racism after turning a verbal racist attack against him into a flourishing friendship.
On May 14, Aminur Chowdhury was racially insulted by Ben Gallon, who was homeless at the time.
Instead of responding to aggression with even more aggression, Mr. Chowdhury invited Mr. Gallon for a chat.
After speaking with Mr. Gallon for 15 minutes, Mr. Chowdhury returned the next day to tell him he had been offered a job as a phone operative. He also helped him to find a rented apartment.
"This is a great way of teaching Asian people across Bradford of how to respond to racism. The more love you show, the more endeared they will be to you," Mr Chowdhury told the Telegraph & Argus.
"I could tell when I stopped to talk to Ben that he was a passionate guy. Ben is a delight to be with. He's not a bad guy," Mr Chowdhury said.
Expressing regret over his actions, Mr Gallon said, "I've learned my lesson. What I said was completely out of character for me, I'm not a racist. There was no justification for me using those words."
Bradford is home to a large community of Muslims from the Indian sub-continent and has in the past been a place of tension between Asians and English far-right nationalists.