British PM meets Syrian refugees in Lebanon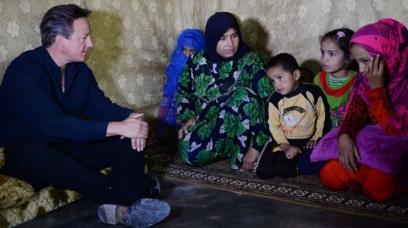 British Prime Minister David Cameron met Monday in Lebanon with Syrian refugees who will resettle in Britain and vowed to continue his country's support for Lebanese troops fighting the Daesh group.
Cameron made his statement after meeting his Lebanese counterpart Tammam Salam in Beirut.
Earlier in the day, the British premier visited the eastern Bekaa Valley and met some refugees who fled the civil war in their country that has killed more than 250,000 people.
Cameron's visit to Beirut comes amid the flow of tens of thousands of Syrian refugees to Europe. The British Prime Minister said earlier this month that Britain will take in up to 20,000 refugees over the next five years.
"This morning I was in the Bekaa Valley to see for myself that (Lebanese) hospitality and meeting with some of the Syrian refugees that we will resettle the United Kingdom," Cameron told reporters after meeting Salam. The area that Cameron visited is less than a mile from the Syrian border. Lebanon hosts more than 1.1 million Syrian refugees — equivalent to a quarter of the country's entire population.
Cameron vowed to continue his country's support for the Lebanese armed forces, saying that the Islamic State group, which controls nearly half of Syria, hold territory  only 60 miles (96 kilometers) from Lebanon's border.
Cameron said Britain has already provided training to over 5,000 Lebanese soldiers and helped build a series of watch towers on the Lebanese border with Syria.
"We also discussed that both our countries face extremism and what more we can do to work together to defeat this threat," Cameron said.
During his visit, Cameron announced that he will be appointing Richard Harrington as minister for Syrian refugees to ensure the arrivals are given a "warm welcome" in Britain.
Syria's crisis began in March 2011 and has sent some 4 million Syrian refugees mostly to Lebanon, Jordan and Turkey.