British royal gives Muslim woman awkward 'kiss' (Video)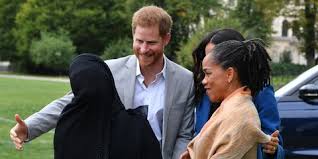 A greeting at Meghan Markle's charity event turned into a socially-awkward moment for Prince Harry.
The Duchess of Sussex had organised a charity cookbook event to raise money for victims of the Grenfell tower fire, reported The Mirror.
When they arrived at the event, Markle introduces the woman, a Muslim who wears hijab, that had worked with her on the project.
After Markle's mother kisses the woman on both cheeks, the prince leans in for a similar greeting.
The woman moves back and with a slight pause, he moves his hands up as if he were going to hold her shoulders, then decides to go for three chaste air kisses.
Watch the video of the moment below: