British travel warning ticks off Tunisian govt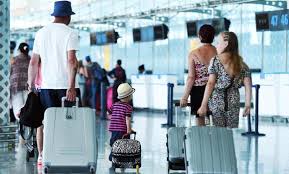 Tunisia's premier said he would telephone British counterpart David Cameron over his government's advice that the North African nation was unsafe for holidays, threatening unspecified repercussions.
Guidance issued Thursday by the Foreign Office forced British tour operators to halt all holidays to Tunisia in a massive blow to a key sector of its economy. At the same time, the estimated 3,000 British tourists who were already in Tunisia had their holidays cut short, and some have already flown home.
Prime Minister Habib Essid told Parliament that the guidance would "have repercussions" for Britain although he did not say what they might be. "We will ring the British prime minister to tell him we have done everything we can to protect all British interests and those of others countries — that's our duty," Essid said late Thursday.
"Britain is free to take whatever decision it likes; it's a sovereign country. But we too are a sovereign country, and we have a position to take."
Tunisia's foreign minister said Friday his government would focus on trying to convince London to reverse its position.
In Paris, the Foreign Ministry said it would not urge French nationals to leave Tunisia, but was warning people to be "particularly vigilant."
Tunisia has brought in a raft of new security measures, including arming tourist police, since a gunman killed 38 foreign holiday makers, 30 of them Britons, at the beach resort of Port El Kantaoui on June 26. But the Foreign Office said it did not believe they provided "adequate protection" and advised against all but essential travel.
Within minutes of the Foreign Office advice, tour operators Thomson and First Choice said they had canceled all flights to Tunisia until Oct. 31.
Tour operator Thomas Cook said Friday it had done the same and that it would be repatriating all of its holiday makers from Tunisia over the weekend.
"We are committed to doing everything we can to support our guests in Tunisia at this time and are working to bring them back to the UK safely and as soon as possible," the company said.
A young English woman named Laura, speaking from Enfidha airport that serves Port El Kantaoui, said "we got a message this morning to tell us to leave because of the terrorist attack that may happen… We don't wanna leave but it's safer."