British unemployment holds near 41 year low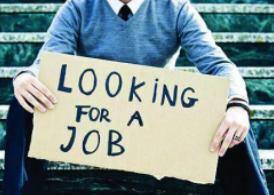 Britain's unemployment rate remains close to a 41-year low, official data showed Wednesday, as the labor market continued to show resilience following the Brexit vote.
Unemployment for the three months to the end of February was about 4.7 percent, the same rate as in the three months to the end of January, the Office for National Statistics (ONS) said in a statement.
That left the rate at its lowest point since 2004, and a whisker away from the record level hit summer of 1975.
There were 31.84 million people in work, 39,000 more than for September to November 2016, although analysts had predicted a larger increase of 76,000.
"The labor market has been helped by the economy's extended resilience since June's Brexit vote," noted IHS Markit economist Howard Archer.
Over the same period, 1.56 million people were unemployed, 45,000 fewer than the previous three months, according to the ONS.
The proportion of people aged from 16 to 64 in work stood at 74.6 percent. That was the joint highest since records began in 1971.
The figures also showed that wage growth including bonuses held steady at 2.3 percent.
That means that real wage growth stood at zero, once the effect of inflation was taken into account.
That could spell trouble for Britain's consumer-reliant economy, according to Hargreaves Lansdown economist Ben Brettell.
"With inflation forecast to carry on rising — the Bank of England predicts a peak around 2.8 percent early next year — real wages are likely to start falling soon, squeezing household budgets," Brettell warned.
"The UK economy is heavily reliant on consumer spending and this could prove a headwind for economic growth as we move through the year."
British annual inflation stood at 2.3 percent in March, holding at a 3.5-year high, official data had showed Tuesday.
However, economists overwhelmingly believe that inflation rate will surge close to 3 percent by the end of the year, faster than the predicted rise in household incomes.
Rising oil prices and a weaker pound following the Brexit vote have sent inflation above the Bank of England's 2.0-percent target.
"We're beginning to see evidence that this is hitting spending growth," added James Smith from ING, pointing to a recent fall in retail sales reported by the British Retail Consortium.
"Throw in the slowdown in jobs growth today — increasing by 39,000 in the three months to February, from 92,000 previously — and it looks like the squeeze on household is intensifying."
All eyes will be on the next release of key data — official retail sales figures for March — on April 21.