Brits-Bangladeshi Enam Ali achieves Institute of Hospitality Awards-2018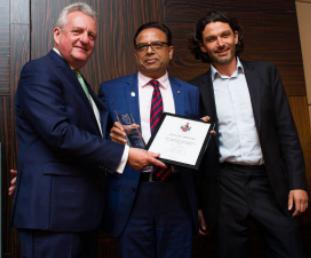 Brits-Bangladeshi Enam Ali MBE  has achieved Institute of Hospitality Award-208 for his contribution to revolutionary change in the curry industry.
He began his community work by establishing numerous trade associations in the 1990s and published the industry's first and leading trade Publication, 'Spice Business Magazine', in 1997 subsequently he founded the Annual British Curry Awards in 2005 which is dubbed as the 'Curry Oscars'. He is also the founder of multi award-wining restaurant 'Le Raj' and recently established a training restaurant Le Raj Academy @NESCOT College.
Alongside this, Ali has developed outstanding relationships in the political arena as a member of the Home Office Hospitality Advisory Panel. In 2009 Enam was appointed a member of the Order of the British Empire (MBE) in the 2009 for his services to the Indian and Bangladeshi restaurant Industry. Enam Ali MBE was recently former president of British-Bangladesh Chamber and commerce and the founder chairman of IOnTV. He has been relentlessly trying to mitigate various problems of the curry industry in Britain and developing the same. He is also trying to remove lobbying problems in state level.
BaxterStorey is the initiator of this ward. It has already taken various programmes for the development of hospitality sector. Its nine-month graduate programme receives over 500 applications from hospitality graduates per year.
In 2017, BaxterStorey launched its newest training initiative 'The Service Academy' aimed at equipping hospitality staff across the business with skills and confidence.