Cameron heads to Scotland hoping to boost 'No' vote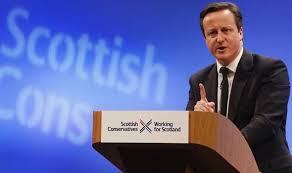 British Prime Minister David Cameron on Monday was to plead with Scots to vote against independence in a referendum as Scotland enters the most decisive week in its modern history.
Cameron was expected in Aberdeen — the hub of Britain's North Sea offshore oil and gas industry, almost all of which would come under Scottish control in the event of a "Yes" vote.
With polls showing an extremely tight vote on Thursday, English football icon David Beckham lent his support to the "Better Together" camp and pro-unity campaigners were planning a rally in Trafalgar Square in London later Monday.
"My sincere hope is that you will vote to renew our historic bond which has been such a success over the centuries," former England captain Beckham said in a statement.
Fraser Nelson, editor of The Spectator, a centre-right weekly news magazine, urged readers to attend the rally, saying: "It's for those who love Britain and don't want to see it snapped in two". Scotland's pro-independence First Minister Alex Salmond also hit the campaign trail, meeting with business leaders who have argued that leaving the United Kingdom makes economic sense.
Support for a "Yes" vote has grown in recent weeks and the campaign got a further boost on Sunday with top Scottish bands Franz Ferdinand and Mogwai playing a gig in the capital Edinburgh urging Scots to cast ballots against the union.
"People are excited. The 'Yes' camp, I feel, are more invigorated," Calum Forbes, a 22-year-old recent graduate and "Yes" supporter, said at the concert.
Queen Elizabeth II also reportedly made her first comment on the vote, which was interpreted by "No" campaigners as lending support to their argument about the risks of voting "Yes".
British media said the 88-year-old monarch told an onlooker after attending church near her Balmoral estate in the Scottish Highlands on Sunday: "Well, I hope people will think very carefully about the future." Three surveys published over the weekend put the pro-union campaign ahead by varying margins: 47 percent for "No" to 40.8 percent for "Yes" in a poll by Survation; 47.7 to 42.3 percent (Opinium) and 47.1 to 46.1 percent (Panelbase).
An ICM online poll for The Sunday Telegraph newspaper meanwhile gave the "No" camp 49 percent, ahead of the pro-UK camp at 42 percent with 9.0 percent undecided, although pollsters warned the sample size could be too small to be representative.