Cameron outlines plans in Queen's Speech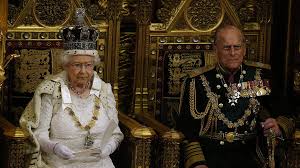 Britain's first all-Conservative government in two decades unveiled its plans for power Wednesday, including laws to hold a referendum on European Union membership, give Scotland more autonomy and toughen immigration policies.
The list of proposed legislation was read by Queen Elizabeth II at the State Opening of Parliament, an annual blend of politics and pomp replete with gilded throne, diamond-studded crown and officials in antiquated garb.
It follows a May 7 election that unexpectedly gave Prime Minister David Cameron's center-right Conservatives a parliamentary majority — and with it the power to implement a political agenda without coalition compromises.
The Queen's Speech, delivered by the monarch but written by the government, included legislation to cap welfare benefits, freeze some taxes for five years and hold a vote on EU membership by the end of 2017 — all key Conservative election promises.
The queen said the government would adopt a "One Nation approach, helping working people get on."
The speech promised legislation to cut red tape for small businesses and freeze income and sales tax rates until 2020. There was also a right-to-buy plan to help thousands of tenants become homeowners.
The unemployed face a lower cap on benefits, while the government plans to make it harder for unionized workers to strike.
Cameron's "One Nation" may well have looser bonds. Scotland is getting more powers to raise and spend taxes, fulfilling a promise made by Cameron before last year's Scottish independence referendum. Wales will also gain more autonomy, and there was a promise to reduce the say of Scottish lawmakers over policies that affect only England and Wales.
Details of that plan, known as "English votes for English laws," are likely to prove contentious — one of several pieces of legislation the government may struggle to pass.
Cameron's majority is small, just 12 seats in the 650-seat House of Commons. An election vow to replace the Human Rights Act — which has a European court as its top arbiter — with a British bill of rights was reduced to a promise of "proposals" rather than legislation. The plan is opposed by some Conservatives as well as opposition parties.
There will also likely be battles in Parliament over promised legislation to crack down on extremism and take a more unwelcoming approach to immigration.
In a ceremony she has enacted 61 previous times in her reign, the 89-year-old queen delivered the speech in the House of Lords — Parliament's unelected upper house — to a tightly packed audience of lawmakers in ordinary clothes and peers in red robes trimmed with ermine.
Since King Charles I tried to arrest members of the House of Commons in 1642 — and ended up deposed, tried and beheaded — the monarch has been barred from entering the Commons chamber.
The queen arrived from Buckingham Palace to Parliament in the Diamond Jubilee State Coach, pulled by two white horses and escorted by cavalry whose silver helmets gleamed in the spring sunshine.
Inside the Lords, she sat on a gilded throne wearing the Imperial State Crown, encrusted with almost 3,000 diamonds.
The annual pageant draws heavily on the history of the power struggle between the monarchy and Parliament. Lawmakers were summoned from the House of Commons by Black Rod, a security official — but only complied after first slamming the door in his face to symbolize their independence.
In another symbol of the traditional hostility between Commons and crown, a lawmaker was held at Buckingham Palace as a "hostage" during the ceremony to ensure the monarch's safe return.