Cameroonian football team accepts Islam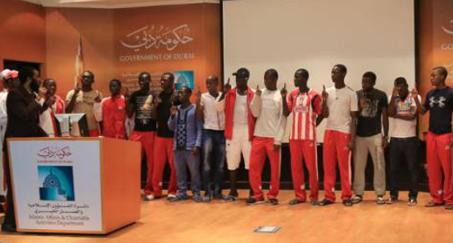 An entire football team of young Cameroonian football players have declared their conversion to Islam after spending two months at a football training camp in the United Arab Emirates.
A total of twenty-three players in their twenties who came as part of a program run by a football academy for poor, homeless and orphaned youngsters in Cameroon, openly read out their testimony of faith at the Islamic Affairs and Charitable Activities Department (IACAD) in Dubai.
Javeed Khateeb, senior religious adviser at IACAD, told The National, "It is amazing that at an age when most people just want to play and have fun, these young men were searching for faith and enlightenment."
It was reported that the players and coaches decided to accept Islam for various reasons, including the peace they felt in the religion and the kindness of Muslims they came across during their stay in the country.
"They were very impressed with the way Muslims behaved, but mostly they were impressed by the kindness and respect they received. These are poor young men and they were embraced like brothers," Khateeb said.
"We spent two separate sessions, which were about a full day each, talking about Islam and answering all their questions and alleviating any doubts," Khateeb added.
"We wanted to make sure they had proper understanding of Islam. Many of their questions were about halal and haram, consuming alcohol, and how the prophet Jesus is portrayed in Islam."
All but two visiting footballers decided to convert to Islam during their visit to IACAD on Thursday before returning to Cameroon on Saturday, although the remaining two players asked for more information before they made up their minds, Khateeb said.