Checkpoints net 24,000 illegal Hajis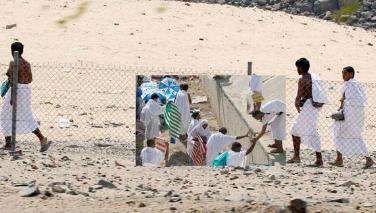 More than 24,000 illegal pilgrims bound for Makkah have been stopped at security checkpoints in Taif and sent back over the past few days.
"This year, checkpoints have been set up early to stop illegal pilgrims from making it into the holy city," said Brig. Mohammed Al-Waleedi, Taif police chief.
Police have intensified security checks on the roads and routes leading to Makkah amid heightened laws and extensive expansion works.
People without Haj permits often take rocky routes from Taif to Makkah, hoping to avoid security checkpoints by traveling through mountainous regions.
These pilgrims, many of whom cannot afford to pay for Haj through a licensed establishment, make prior agreements with brokers who have experience in smuggling people in and who know which roads are far away from checkpoints.
Many people have, nevertheless, aborted plans to perform Haj this year, saying they have been unable to find brokers, who have reportedly given up on the precarious business in light of the new developments.
Meanwhile, the imam of the Grand Mosque in Makkah has called upon Muslims to uphold the sanctity of Haj and not use the annual event for raising political slogans or holding political demonstrations.
"There is no place for shouting party slogans or holding sectarian meetings or making political recruitment and mobilization (during the Haj season)," said Abdul Rahman Al-Sudais.
"The faithful who have come from different parts of the world are seeking peace and tranquility in the backdrop of crises and challenges facing the Ummah," Al-Sudais told worshippers in a sermon.