Clooney's fiancee opts not to join UN Gaza probe team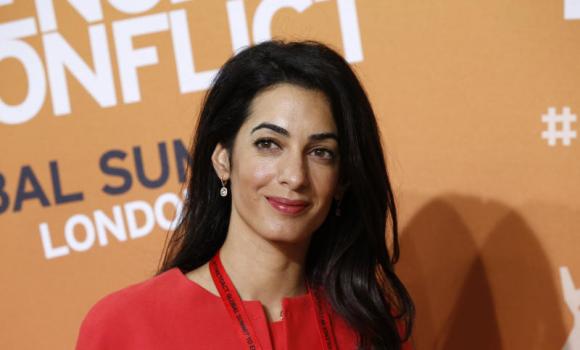 Hollywood star George Clooney's fiancee Amal Alamuddin has declined her nomination to join a commission probing Israel's Gaza offensive, the head of the UN Human Rights Council said.
In a statement, Baudelaire Ndong Ella said that the Lebanese-born British lawyer had cited "prior professional commitments and regrets that the commission will not benefit from her expertise in the field."
Ella, who this year holds the rotating presidency of the top UN rights forum, had on Monday named Alamuddin to the three-member commission of inquiry.
He said that he had approached a "number of individuals" as potential candidates before making the announcement, and that Alamuddin had several hours later said that she was not in a position to accept the role.
Despite Alamuddin's decision, the commission of inquiry is now operational, Ella said, adding that he would "decide on the way forward."
The commission will be led by Canadian international lawyer William Schabas, and also include Doudou Diene of Senegal, who has previously served as the UN's watchdog on racism and on post-conflict Ivory Coast.
The UN Human Rights Council ordered the Gaza investigation on July 23, in the face of fierce opposition from Israel and the US.
The decision came during a marathon seven-hour emergency session of the 47-nation council, where Israeli and Palestinians delegates traded accusations over each sides' alleged war crimes.
The probe team has been tasked with reporting back to the council by March.
Alamuddin's family, who are from Lebanon's Druze community, fled to Britain during the country's 1975-1990 civil war.
The 36-year-old, who is fluent in Arabic, French and English, is reportedly due to wed 53-year-old Clooney in Italy in September.
News that she had stolen the heart of one of Hollywood's most celebrated bachelors caused a global media frenzy back in April.
Alamuddin is well versed in international conflict probes.
She worked with the international tribunal examining the assassination of former Lebanese prime minister Rafiq Hariri, and assisted ex-UN head Kofi Annan in efforts to make peace in Syria.
Among her legal clients have been Ukraine's former prime minister Yulia Tymoshenko and controversial Wikileaks founder Julian Assange.