Crowds celebrate Feast of St George in London's Trafalgar Square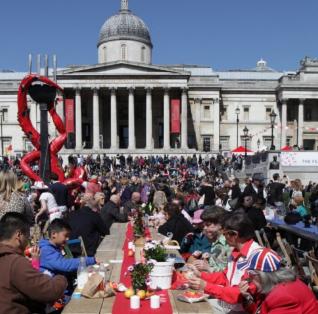 Thousands are expected to celebrate the Feast of St George in Trafalgar Square today where organisers promise "traditional English fare and free fun for everyone".
The event, organised by Mayor of London Boris Johnson, starts at midday and goes on until 6pm and is inspired by St George's Day's 13th century origins as a national day of feasting.
There will be an English farmers' market, with around 20 stalls selling hog roast, homemade pies, cakes and freshly squeezed lemonade – all of which can be enjoyed in a banqueting area seating 250 people between Trafalgar Square's iconic fountains.
The Mayor of London, Boris Johnson says: "Our Feast of St George is set to be a day of revelry and merriment for all the family, with delicious food and a whole host of activities for all ages. London is one of the foodie capitals of the world and this banquet is the perfect showcase for some of our superb English fare. Happy St George's Day."
Leading London chefs will give cookery demonstrations in 'Cooks' Corner' while the afternoon's soundtrack comes courtesy of the Music Medley bandstand with talented young musicians and singers from GIGS, the Mayor's busking competition.
Youngsters can enjoy garden games and plenty of other family-friendly activities.