Cypriot Mosque Opens After 51 Years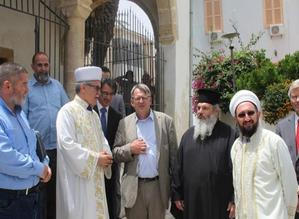 After 51 years of closing its doors, a mosque in the Greek side of Cyprus was opened on Tuesday, June 3, when Turkish Cypriot Grand Mufti offered prayers as part of the Swedish Embassy-prompted interfaith dialogue.
"Inshallah (with God's will) we are going to offer our prayers in this Turkish quarter in this mosque," Turkish Cypriot Grand Mufti Dr Talip Atalay said at the mosque inauguration, InCyprus website reported.
Atalay added that while some elements were absent from the mosque, they would not be focused on as "what is most important right now is that we are here and we can pray".
Atalay led the first prayer since 1963 in Tahtakale Mosque that is situated in the southern part of Lefkosa (Nicosia), controlled by the Greek Cypriot administration.
His visit followed an invitation to the free areas by Archbishop Chrysostomos II as part of Swedish Embassy-prompted interfaith dialogue.
Speaking at the ceremony, he said permanent peace in Cyprus would be an excellent example for the rest of the region.
"Islam's message of peace, along with the messages of peace of other faiths, will play an important part in this effort," he said.
Representing the Archbishop, who was overseas on Tuesday, Father Savvas welcomed Grand Mufti Atalay and thanked the Swedish Embassy for its efforts to promote religious freedom.
Father Savvas said it was on this principle that the Greek Orthodox Church had "from the start worked towards access to all our monuments, their restoration, their operation, their use for the purpose for which they were built."
"There have been joint visits by representatives of the Church of Cyprus around Cyprus which have led to some sites being singled out so that we can quietly support until a solution is reached and we can repair them all," Father Savvas said.
The island of Cyprus has remained divided into Greek and Turkish parts since a Greek Cypriot coup was followed by a Turkish peace mission to aid Turkish Cypriots in the north in 1974.
Turkish and Greek Cypriot leaders have been engaged in a peace process since February to reunify the island.
The Turkish Cypriot state has an estimated community of 300,000 Muslims.
Turkish Cypriots are exclusively Sunni, with an influential stream of Sufism underlying their spiritual heritage and development.