Dhaka International Trade Fair opens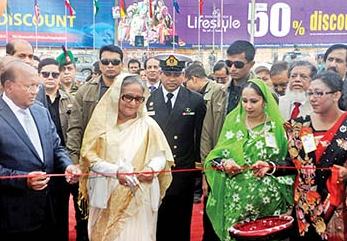 Prime Minister Sheikh Hasina told businessmen to increase productivity to survive in the competitive world of today while opening the Dhaka International Trade Fair.
She urged them to make more quality, standard and attractive products.
She formally inaugurated the month-long annual mega-event Dhaka International Trade Fair-2015, which is aimed to showcase Bangladeshi products to bolster export.
This year, companies from home and abroad will display their inventory in 500 stalls. The commerce ministry and the Export Promotion Bureau, the organisers, allocated 48 stalls to foreign companies and the rest to local companies, an official of the ministry said.
Companies from 14 countries – India, Pakistan, China, Malaysia, Iran, Thailand, US, Turkey, Singapore, Australia, the UK, UAE, South Korea and Germany – will participate in the fair at Sher-e-Bangla Nagar in Dhaka that will end on January 31.
The fair will be open to visitors from 9am to 10pm. The entry fee for adults is Tk 30 and Tk 20 for minors.