Diplomats wives group hold multicultural charity bazaar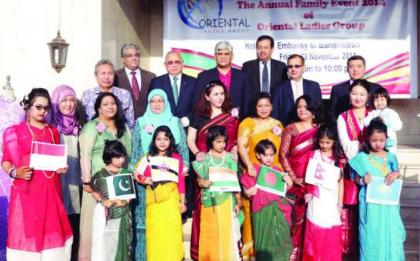 The "OLG Annual Asian Charity bazaar-2014" with seven participating countries this year was held on Nov. 28 at the Bangladesh Embassy premises in Riyadh.
The OLG (Oriental Ladies Group) Charity bazaar included the countries of Bangladesh, Brunei Darussalam, India, Indonesia, Kazakhstan, Nepal and Pakistan with the event being a resounding success yet again.
Presenting a remarkable example of multiculturalism, the event was inaugurated by the Oriental Ladies Group patron members — the wives of Heads of Missions of the seven nations in the presence of their ambassadors, executive committee members and guest representatives from diplomatic circles.
In her opening address, Shahnaz Islam of the Bangladesh Embassy, which was the host this year, welcomed the guests. "The mission of our annual charity bazaar is to promote cultural exchange and ethnic diversity among members of the diplomatic community in Saudi Arabia." She further said that, "The philanthropic purpose of OLG in organizing the bazaars is to raise funds for social causes within the member countries to help people who are in dire need of assistance."
Shahnaz also thanked the members for holding up the longstanding tradition of the Oriental Ladies Group by actively participating in organizing the 'bazaar'.
Seven national stalls featured under titles such as "Incredible" India, 'Astana' Kazakhastan, 'Naturally' Nepal, 'Shonar' Bangla, 'Progressing' Pakistan, 'Fantastic' Indonesia and 'Utusan' Darussalam of Brunei displayed the art and traditional crafts of their countries in beautiful arrangements, including homemade delicacies by the OLG members.
This year, women entrepreneurs from the member countries outside the diplomatic circles were also invited to participate in the family event.
The OLG patrons led the event and included Saltanat Batyrshaeva of Kazakhstan, Shahnaz Islam of Bangladesh, Asiya Hamid Rao of India, Datin Hajah Zalina of Brunei Darussalam, Kabita Rijal of Nepal, Lubna Khayyam of Pakistan and Endah Dewanto of Indonesia.
The OLG annual bazaar is a multicultural event where participating countries showcase an artistic segment of their nation's culture through the exhibition of numerous traditional artifacts, handicrafts, handmade accessories, articles of clothing and traditional food items which reflect a nation's identity.
Earlier, children dressed in traditional attire representing the colors of the national flags of the member countries welcomed the guests. Distinguished Saudi guests, business representatives and guests from the diplomatic community relished the cross-cultural presentations during the event. "The well organized event offered a rich experience of cultural exchange," said Omer Shah of Aecom Arabia, a visitor at the OLG event.
Farzana Mannan, president of OLG, appreciated and thanked the ambassador of Bangladesh, Muhammad Shahidul Islam and officials of the Bangladesh Embassy for their cooperation in making the bazaar a success.
The efforts of the OLG representatives were appreciated by Ambassadors Hamid Ali Rao of India, Mohd. Shahidul Islam of Bangladesh, Dato Paduka Haji Mohd. Daud of Brunei, Bakhyt Batyrshyev of Kazakhstan, Uday Raja Pandey of Nepal, Khayyam Akbar charge de affaires at Pakistan Embassy, and Dasian Ewanto Prasetyo, Counsel Minister at the Indonesian Embassy.