'Do not learn about Pakistan from international media'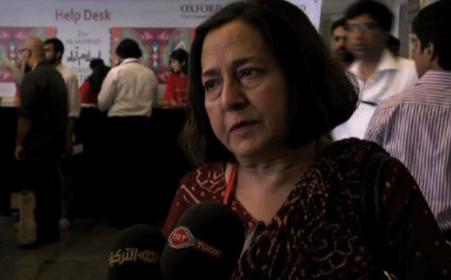 A literature festival in Islamabad brought together a number of famous authors and their readers on April 25. Following opening ceremony speeches, sessions were given on a range of topics.
A total of 125 speakers from Italy, Bangladesh, India, the UK and various parts of Pakistan participated in almost 70 sessions.
Amina Sayid, the curator of the festival, said the aim of the festival was to bring together people from different backgrounds and of different viewpoints to solve social and political problems in the country.
"All sessions are held in an interactive way that allows listeners to put forward their opinions," she said, adding that she believed this was the best way to achieve peace.
Amina Sayid also said that she hoped the festival would present a different perspective on Pakistan, as she feels that the outside world looks at Pakistan from a very restricted angle, preventing them from seeing Pakistan's truly diverse nature.
"The is more to Pakistan than the international media shows you," she said.
Among the books and poems shared at the festival, Naim Qureshi's book "Ottoman Turkey, Ataturk and Muslim South Asia" was introduced. In the book, the author explains the reaction of the South Asian Muslims to the fall of the Ottoman Empire at the end of the 19th century and beginning of the 20th century.
Explaining the reaction of the Indian Muslims to the fall of the Ottoman Empire and the rise of the founder of the secular Turkish republic Mustafa Kemal Ataturk, Qureshi said that he was shocked to find that Muslims in the region were so interested in developments in Turkey.
A short film was also played for visitors to the festival, which for three days brought together a range of arts.