Ebola death toll rises to 7,890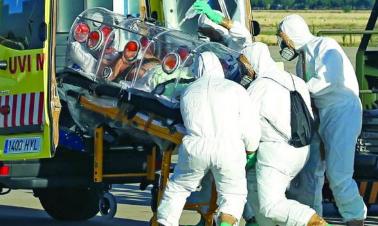 The death toll from the Ebola outbreak in west Africa has risen to 7,890 out of 20,171 cases recorded, the World Health Organization said Wednesday.
Since the previous toll published on Monday, the first confirmed case of Ebola has been diagnosed in Britain.
Almost all the deaths and cases have been recorded in the three west African countries worst hit by the outbreak: Sierra Leone, Liberia and Guinea.
Those apart, six have died in Mali, one in the United States and eight in Nigeria, which was declared Ebola-free in October.
Spain and Senegal, which have both been declared free of Ebola, had one case each, but no deaths.
Sierra Leone, which has overtaken Liberia as the country with the most infections, counted 9,446 cases and 2,758 deaths on December 28.
Liberia, long the hardest-hit country, has seen a clear decrease in transmission over the past month.
As of December 28, the country had recorded 8,018 cases and 3,423 deaths.
In Guinea, where the outbreak started a year ago, 2,707 Ebola cases and 1,708 deaths were recorded.