Egypt releases Al-Jazeera reporter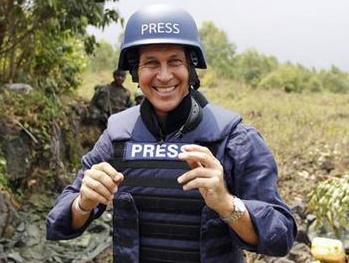 Al-Jazeera English reporter Peter Greste left Egypt on Sunday on a flight to Cyprus after being released from prison, following an apparent approval of the Australian journalist's deportation from the country's president, officials said.
A Cairo airport official said Greste is on an EgyptAir flight to Larnaca, Cyprus that took off shortly after 4 p.m. (1400 GMT) on Sunday.
Earlier, an Egyptian prison official and the nation's official news agency said Greste was released after more than a year behind bars following a presidential "approval."
Meanwhile, the fiancée of Al Jazeera journalist Mohamed Fahmy said on Sunday she was hopeful he would be released soon and deported to Canada.
"His deportation is in its final stages. We are hopeful," Marwa Omara told Reuters shortly after Greste flew to Australia after being deported.
Greste, Egyptian-Canadian Mohammed Fahmy and Egyptian Mohammed Baher were sentenced to at least seven years in prison on terrorism-related charges last year in a trial described as a sham by rights groups. There was no immediate word on the other two journalists.
The officials spoke on condition of anonymity because they were not authorized to speak to the media.
The three were arrested over their coverage of the violent crackdown on protests following the military overthrow of President Muhammad Mursi in 2013. Egyptian authorities accused them of providing a platform for Mursi's Muslim Brotherhood, now declared a terrorist organization.
Rights groups and several media outlets condemned the verdicts as political, saying the three were doing their job during a tumultuous time.
According to a law passed late last year, Egyptian President Abdel-Fattah El-Sissi has the power to deport foreign defendants or convicts if it's considered to be in the interest of national security. The law was seen as providing a potential legal instrument with which to free the journalists.
El-Sissi had repeatedly said he wants to end the case, which has prompted a storm of international criticism.