Egyptian student beaten to death by gang of 10 women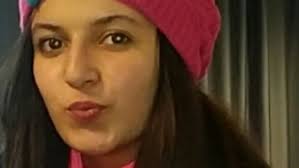 The Egyptian engineering student Mariam Moustafa was left in a coma after a street assault at about 8pm on February 20 before she was pronounced dead almost a month later. Mariam was placed in an induced coma after the attack and sent home after three days but her condition suddenly deteriorated and she died on Wednesday.
The teenager was allegedly punched several times during a confrontation with a group of women in Parliament Street, Nottingham, before she was later taken to the Queen's Medical Centre in the city.
She was then transferred to Nottingham City Hospital but died on Wednesday.
The teenager got on a bus at the scene near the Victoria Centre shopping precinct but was followed by the same group, who it is claimed were then threatening and abusive towards her.
Nottinghamshire Police have said they are aware of social media posts claiming the attack was motivated by hate and are 'keeping an open mind'.
A Home Office post-mortem examination is due to take place.
The teenager's family believe the attack was racially-motivated.