Egyptian wins top Qur'an contest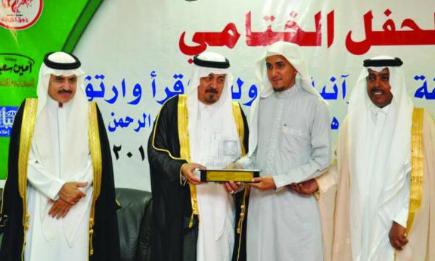 An Egyptian, Indonesian and Yemeni won the first three places in the first-ever Qur'an memorization contest hosted by a Makkah radio station here recently.
Egypt's Ibrahim Shahta Ibrahim bagged the top prize, with Indonesia's Razi Ngosai in second and Yemen's Adanan Omar Habashi in third, in the competition broadcast on Radio Islam.
A total of 140 contestants from 54 countries took part in the contest held at the station's Jeddah offices.
Abdul Rahman Al-Hazza, chairman of the Saudi Broadcasting Corporation who was the chief guest, said the company aims to expand the competition in future.
"Saudi Radio is carrying out the directives of the Kingdom's founders to spread the message of the Qur'an and Sunnah," he said. The plan is to include the private sector in future contests, he said.
Al-Hazza said that the company has installed the latest sound system at the station, which is conducive for holding such events.
Abdul Rahman Qabaysi, director of Radio Islam, said that several women have asked if they could also participate in the contest by telephone next Ramadan. He said there would be "significant changes" to the competition next year.
Abdullah Basafar, secretary general of the International Qur'an Memorization Organization, said these competitions are not new to the Kingdom. He said the first such contest, the King Abdulaziz International Award for Qur'an Memorization, was held 36 years ago. He said these events are held to inspire people with the message of the holy book.
The jury, led by Abdualaziz Kaid, judged the performances of the contestants based on their Tajweed.
The winner received SR15,000, second place SR7,000 and third place SR6,000. Those from fourth to tenth received SR1,000 each.
The radio station broadcasts live and recorded recitals of the Holy Qur'an, and other Islamic programs in the Kingdom and the region. It has the highest number of listeners in the country.