Egyptian woman attends husband's wedding to second wife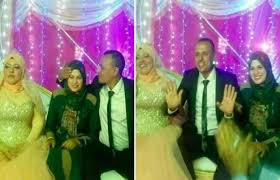 For many wives in the world, accepting a second woman into your marriage is an absolute no-go. So when this Egyptian woman was seen taking wedding photos with her husband and his new wife, online critics did not hold back.
The unidentified (first) wife of Mo'taz Hilal was questioned, criticised and praised earlier this week after images showing her sitting alongside her husband and his new wife on their wedding day went viral across social media.
But the first wife was not only okay with it, she allegedly helped orchestrate the affair – literally.
In a statement posted by Hilal on Facebook, he said "I always dreamt of taking a second wife, and when I told my first wife about it, she was a bit upset at first, but because she truly loves me, she eventually reconciled with the idea."
"She even helped convince the parents of my second wife of the marriage and has an excellent relationship with her now," he added.
The strange event took the online world by a storm, with many weighing in on the debate around polygamy.
In response to the images shared on Hilal's Facebook page, one user simply comments: "He's so selfish".
Others however, dumbfounded by the event, questioned whether "things like this really happen?" and "are there really women who still accept this in our day and age?"
But of course, there were those who praised the wife, like this Facebook user who said "this is such an amazing thing to see. His first wife deserves respect."
And naturally, one conspiracy theorist said "maybe he was such a lousy husband, she thought she'd hand him over to someone else", while another suggested "no wife would accept such a situation, except if she didn't love her  husband. If she did, she would've completely crashed and ruined his second wedding."
Although polygamy is permissible in Islam, the practice remains controversial for Muslims around the world, with many accusing men of abusing the religious ruling for personal desires.
According to the religion, God first revealed the verse for polygamy in the Quran after the historic Battle of Uhud, during the Prophet Muhammad's time.
Many of Prophet Muhammad's followers were killed in the battle, leaving women and children behind without men, and thus God allowed men to take on the widows and orphans.
But the Quran clearly states that a man can only marry more than one woman if he treats her and all his other wives equally, imposing restrictions and rules to a practice that is widely performed today.
"But if you fear that you will not be just, then [marry only] one," Surat An-Nisaa (The Verse of the Women) states in the Quran.
But the verse then goes on to confirm "You will never be able to be equal between wives, even if you should strive to do so".