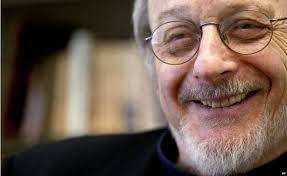 The assignment was to interview a "colorful person," and the teenage E.L. Doctorow — back then, he was simply Edgar — had just the man.
His name was Karl, and he was a dear old German-Jewish refugee who worked as a stage doorman at Carnegie Hall. Young Edgar's report on the elderly man was replete with details both dramatic and intimate: How Karl was a great lover of music and was a favorite among the artists who frequented the famous concert hall. How every evening he would arrive at work with a brown bag lunch and a thermos full of tea, which he drank in the Old World style, sticking a cube of sugar in his teeth and drinking through the melting crystals.
Edgar's high school journalism teacher loved the story and wanted to run it in the school newspaper. Nervously, he responded that wasn't a good idea.
"I said, 'Well, Karl is very shy.' And she said, 'Shy? Well, he talked to you, didn't he?'" he recalled in a National Archives interview more than six decades later.
"I said, 'Not exactly. There is no Karl. I made him up,'" the adult Doctorow laughed.
The award-winning author of a dozen novels, three short story collections and countless commentaries on culture and politics died in New York on Tuesday at age 84. The cause was complications from lung cancer, his son told The New York Times.
His father had named him for Edgar Allen Poe.