English football fans guilty of ripping Quran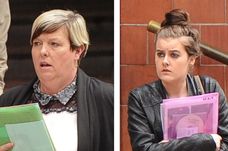 Two football fans were convicted Thursday of tearing up a copy of the Holy Quran during an English football match and throwing the pieces in the air. Julie Phillips, 50, ripped pages from the Islamic holy book and handed them out to fellow away supporters to shred during offensive chanting, Birmingham Magistrates' Court in central England heard.
Phillips and fellow Middlesbrough fan Gemma Parkin, 18, both from the northeast English town, were found guilty of a religiously-aggravated public order offence. The incident happened during the second-tier English Championship 2-2 draw between hosts Birmingham City and visitors Middlesbrough at St Andrew's stadium on Dec 7. The two women were convicted of causing harassment, alarm or distress and fined. They had both denied knowing that the book being torn apart was the Holy Quran.
Parkin said she had been handed the book in Birmingham city centre and did not know what it was. Phillips claimed she was simply making confetti to throw in the air. Passing sentence, Gordon Sayers said: "This was a very unpleasant offence and there was a degree of pre-planning involved." He said Parkin was "well aware" of what she was doing and told Phillips: "We have seen very clear CCTV footage of you ripping up the Holy Quran and you passing pages to a small group of other supporters. "We are satisfied that you were aware of what you were distributing. "This behaviour was in a football stadium and was both abusive and insulting." Phillips was ordered to pay £730 ($1,230, 890 euros) and Parkin £620 in fines, court costs and victim surcharges. A third Middlesbrough fan was fined £235 by magistrates in March for the same offence. He admitted being among around 20 supporters who were handed pages from the Holy Quran.