Erdogan, EU chiefs meet to mend eroded ties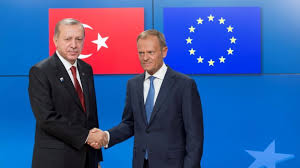 Turkish President Recep Tayyip Erdogan on Monday meets the leaders of the EU's top bodies for a potentially stormy encounter that will seek ways to repair an increasingly fractured relationship.
European Union President Donald Tusk and European Commission chief Jean-Claude Juncker will talk with Erdogan at the Bulgarian Black Sea resort of Varna with a litany of problems clouding their discussions.
Topics including the crackdown in Turkey after the July 2016 failed coup, Turkish demands for visa liberalization and the near-endless saga of Ankara's own EU membership bid are expected to loom high.
And while all the leaders were hoping at least a more harmonious mood music would come out of the working dinner, a row over Greece and Cyprus added a new shadow days before the talks.
Bulgarian Prime Minister Boyko Borisov, whose country holds the rotating presidency of the EU Council, said it was expected to be "a very difficult meeting."
But both sides — with a joint interest in improving security cooperation and economic relations — will also not want the talks to fail.
"The Varna summit will provide a platform to re-launch the dialogue between the two parties, even though no real breakthrough is expected in concrete terms," said Jana Jabbour, professor of political science at Sciences Po university in Paris and the author of a book on Turkish foreign policy.
Temperatures were raised after EU leaders last week condemned Turkey's "illegal actions" toward Greece and Cyprus in the Eastern Mediterranean and the Aegean Sea.
Ankara hit back at the "unacceptable comments" and said the EU had lost its objectivity on Cyprus, which is divided between the Greek-majority internationally recognized Republic of Cyprus and the breakaway Turkish Cypriot north.
The statement on Thursday by the 28 EU members meeting in Brussels condemned Turkey over Ankara's arrest of two Greek soldiers and its promise to prevent the Greek Cypriot government from exploring for oil and gas.
Turkish EU Minister Omer Celik said Turkey could not accept such statements by the EU.
"This issue will be raised in Varna, where we hope to have a wide-ranging discussion on EU-Turkey relations and on the way ahead," Tusk said.
Juncker said he was "looking with mixed feelings toward the summit because the differences in views between the EU and Turkey are many."
But, he added "we will have a frank and open debate with President Erdogan."
Ankara and Brussels had in March 2016 agreed a controversial deal to stop the flow of migrants, in what was seen as a landmark in cooperation and which Turkey hoped would yield visa free travel to Europe.
So far this incentive has not been realized and Erdogan is expected to press this strongly in the talks.
"Turkey considers it (visa liberalization) a priority," Jabbour told AFP.
But, she added, "it would be delusional to believe that the EU would grant Turkey concessions on this matter."
Brussels has repeatedly criticized the post coup crackdown which has seen nearly 160,000 people arrested, including dozens of journalists.
Turkey, for its part, accused Brussels of failing to show solidarity after the coup and appears set on forging a strong partnership with President Vladimir Putin's Russia.
In contrast to the evening meeting with the EU leadership, Putin is expected to make a full two-day visit to Turkey early next month.
Ankara's long-stalled bid to join the EU will also be discussed during the summit, but Western diplomats and analysts agree meaningful steps are unlikely.
Even Turkish Foreign Minister Mevlut Cavusoglu said Turkey did not have "any expectations right now from the EU regarding the membership process."
Nonetheless, Erdogan has for now dropped from speeches his threats to reimpose the death penalty in Turkey, a move that would automatically end the EU membership bid.
Next month the bloc will release its latest progress report, which is "bound to illustrate a substantial regression" in Turkey, Marc Pierini, a visiting scholar at Carnegie Europe and a former EU ambassador to Turkey, said in a study.
During a visit by Erdogan, French President Emmanuel Macron said earlier this year Ankara should settle instead for a looser "partnership," after suggesting no progress was possible.