Erdogan opens Cambridge 'eco-mosque'
Turkish president rejects reference to 'Islamic terror'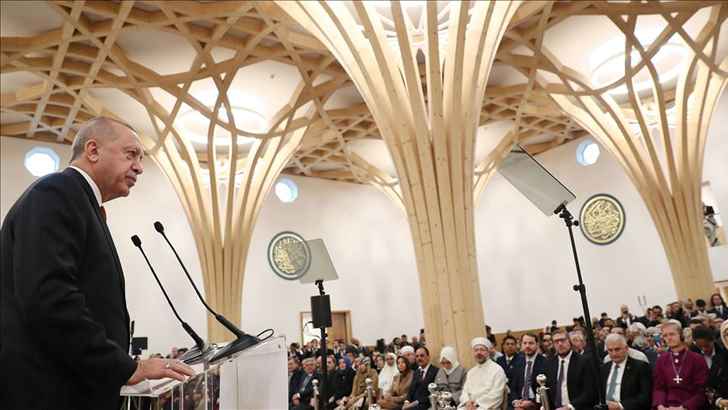 A Muslim can not be a terrorist and Islam does not produce terrorists, the Turkish President said Thursday, once again rejecting the term "Islamic terrorism". Recep Tayyip Erdogan said racism, discrimination and Islamophobia spread like a poison ivy in countries once seen as cradles of democracy.
Erdogan's remarks came at the inauguration ceremony of Cambridge Central Mosque which he attended with first lady Emine Erdogan and a group of high-level Turkish officials.
"Muslim women are abused only because they wear headscarves," in Erdogan said, referring to recent Islamophobic attacks. He added that Christians and Jewish people were also targeted in such attacks. Erdogan underlined that regardless of identity, all terrorists were "bloodthirsty vampires".
Cambridge Central Mosque in the east of England. Described as Europe's first eco-mosque, the facility is equipped with solar panels, relies on green energy and aims for a zero-carbon footprint. It first opened to the public in April. According to the mosque's website, its design was inspired by both Islamic and English religious architectural traditions.
Europe's first 'eco-mosque' aims to protect the environment ? pic.twitter.com/dUMhbo9bLR

— Al Jazeera English (@AJEnglish) June 11, 2019