Erdogan rejects option of partnership with EU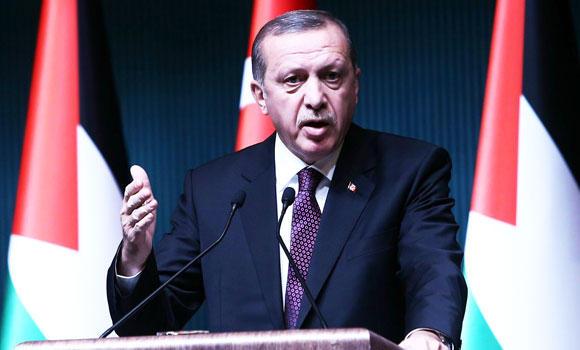 Turkish President Recep Tayyip Erdogan has rejected proposals of a partnership with the EU, insisting full membership to the bloc is the only option, in an interview published Sunday.
Hosting Erdogan on a visit to Paris in January, French President Emmanuel Macron said it was "hypocrisy" to say progress could be made on Turkish EU membership, floating the idea of a partnership instead.
The EU must "keep its promises" to Turkey, Erdogan told Italy's Stampa newspaper, ahead of his arrival in Rome on Sunday evening for a 24-hour visit.
"The EU is blocking access to negotiations and suggests that lack of progress is because of us. It's unfair. Just like it is that other countries are pushing for options other than membership," he said.
"We want full membership. Other options are not satisfactory," he added.
He stressed the country's "important" role stemming the flow of migrants to Europe, which he said offered "security and stability" to the continent.
Turkish ambitions to join the EU date back over half a century but accession talks started in October 2005.
Out of the total of 35 chapters needed to be closed to join the EU, 16 have been opened with just one closed. No new chapter has been opened since financial and budgetary provisions was opened in June 2016.
The Turkish leader also defended his recently-launched "Olive Branch" operation in the northern Syrian region of Afrin, fighting Syrian Kurdish People's Protection Units (YPG) militia which Ankara sees as a terror group.
"The Turkish armed forces are not in Afrin to fight armed Kurdish groups. We don't have problems with the Kurdish Syrians, we are only fighting terrorists, and we have the right to do it," insisted Erdogan, repeating that Turkey was not seeking territorial gains.
Erdogan's flying visit to Italy will include a meeting with his Italian counterpart Italian Sergio Mattarella.
He will also be the first Turkish president to visit the Vatican in 59 years, where he will thank Pope Francis for challenging US President Donald Trump's decision to recognize Jerusalem as the capital of Israel, a city also claimed by Palestinians.