Erdogan urges Islamic unity against 'modern Lawrences'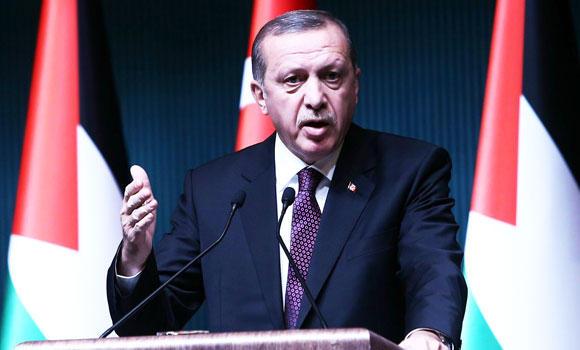 Turkish President Recep Tayyip Erdogan on Wednesday called on Muslim states to speak with one voice against terrorism and racism, positioning himself once again as a key leader of the Islamic world.
Addressing a meeting of the Organization of Islamic Cooperation (OIC) in Istanbul, Erdogan said Islamic states had to defeat the successors of the iconic British officer Lawrence of Arabia who were seeking to disrupt the Middle East.
His comments came ahead of a tour of Ethiopia, Somalia and Djibouti scheduled to begin Wednesday.
He said acts of terrorism "never bind the Muslims nor Islamic countries" and called on the Muslim world to engage in "self-criticism" to define a united route in order to address the challenges.
"When the Muslim world remains silent and every sect stands behind their own sympathizers, others are stepping in: Terrorists and modern Lawrences," he said.
British officer T.E. Lawrence, better known as Lawrence of Arabia, helped Arab leaders fight a guerrilla insurgency against the forces of the Ottoman Empire in the desert during World War I. Modern Turkey was built on the ruins of the empire.
Erdogan has in the past raised up the ghost of Lawrence as a symbol of Western meddling in the Middle East.
"We may be speaking different languages, we may be coming from different geographies, and we may have different ethnic roots," he said. "(But) we must put aside all differences among us in the face of terrorism and racism," he said.
Erdogan lashed out at the Islamic State (IS) which has captured large swathes of Iraq and Syria right up to the Turkish border which he said was "killing Muslims on the pretext of Islam."
"We must first check and question ourselves. Foreigners are coming, bombing and killing. Why are we leaving problems to others to deal with instead of solving them among ourselves?"
Erdogan also criticized the UN Security Council for making decisions on issues that concern the Muslim world, without having a Muslim member among its permanent members.
"Is there any single Muslim country among the five" (permanent members of the UN Security Council)? Is the entire world surrendered to the five members? Can justice be there?" he asked.
"We are 56 countries. Won't we question what our function is? Islamic countries make up almost one third of the United Nations," he told the OIC.