Etihad and Aegean Airlines mark 5 years of success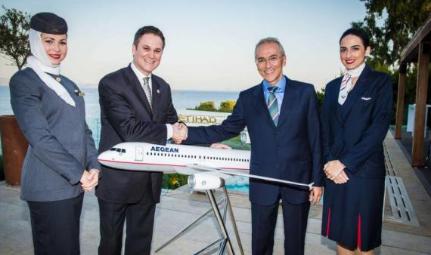 Etihad Airways and codeshare partner Aegean Airlines are celebrating five years of Etihad Airways' non-stop services between Athens and Abu Dhabi, and the start of Aegean's new direct flights to Abu Dhabi.
Etihad Airways commenced operations to Athens in June 2009, and since then has carried almost 400,000 guests and nearly 3,700 tons of cargo on the route.
To meet rising demand, the airline will increase its current daily Athens-Abu Dhabi services to 10 per week on 2 July.
For the summer 2014 season Etihad Airways will also deploy a wide-body Airbus A330-200 aircraft on the Athens-Abu Dhabi route, returning to Airbus A320 operations for the winter season.
Peter Baumgartner, Etihad Airways' chief commercial officer, said: "Year on year, our Athens route has exceeded our expectations and we are delighted to build on this success by adding more capacity to and from Greece, and officially mark our codeshare partnership here in Athens with Aegean, Greece's largest commercial airline.
"From today, Aegean will operate four weekly services to our home and hub, Abu Dhabi, providing convenient onward connections for guests to destinations on the Etihad Airways network right across the globe.
"Etihad Airways will place its EY flight code on these new Aegean services, and, focussing on our guests in the travel and tourism industry, the business community and governments, we look forward to further cementing the strong ties between Greece and the UAE."
Dimitris Gerogiannis, Aegean Airlines managing director, said: "We congratulate Etihad Airways on the fifth anniversary of its operations to Greece, and we are delighted to be working together to launch our direct flights to Abu Dhabi."
Aegean Airlines will operate the new Athens-Abu Dhabi service with a 168-seat Airbus A320 aircraft.
The airline is also allowing Etihad Airways to place its EY flight code on Aegean services to 16 destinations across Greece.