EU citizens won't get same rights after Brexit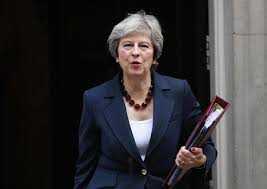 European Union citizens who come to Britain during a transition period after the country leaves the bloc should not have the same rights to remain as those who come earlier, British Prime Minister Theresa May said Thursday.
Speaking to reporters on a trip to China, May said she will fight proposals to give EU nationals full residency rights if they arrive after Britain leaves the EU in March 2019.
"This is a matter for negotiation for the immediate period. But I'm clear there's a difference between those people who came prior to us leaving and those who will come when they know the U.K. is no longer a member of the EU," she said.
Britain and the bloc have agreed in principle to a period of about two years after March 2019 during which the U.K. will follow EU rules but without having a seat at the bloc's decision-making table.
May's stance will please pro-Brexit lawmakers in her Conservative Party, but is at odds with EU officials, who say Britain must guarantee the rights of EU citizens if it wants free access to the substantial European single market during the transition.
Guy Verhofstadt, the European Parliament's chief Brexit spokesman, told The Guardian: "Citizens' rights during the transition is not negotiable."
Meanwhile, pro-EU politicians in Britain are urging the government to heed economic assessments being prepared that predict limiting immigration from the EU will leave the British economy worse off.
May's Conservative government dismissed the documents, leaked to the BuzzFeed news site, as unfinished and unapproved. But it has agreed to show them to British lawmakers after pressure from Parliament.