Ex-Irish leader Ian Paisley dies aged 88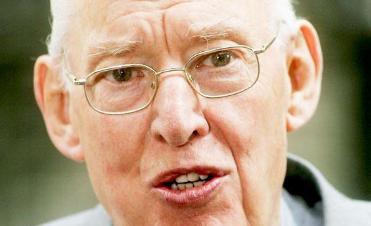 Former Northern Irish first minister Ian Paisley, the firebrand Protestant leader who struck a power-sharing deal with former foes Sinn Fein, died on Friday at the age of 88.
A towering figure during the Troubles in Northern Ireland known for his decades of intransigence and impassioned rhetoric, Paisley had been ill for some time.
"My beloved husband, Ian, entered his eternal rest this morning," his wife Eileen said on behalf of the family.
"Although ours is the grand hope of reunion, naturally as a family we are heartbroken," she said. "We loved him and he adored us, and our earthly lives are forever changed."
Paisley did what even he once considered unthinkable in May 2007 and entered office with Sinn Fein, the political wing of the now-defunct Irish Republican Army paramilitary group.
and as a result restored stable, devolved government to the British province.
In a feat few could match, the pro-British preacher co-founded both a church and a political party, leading the Free Presbyterian Church of Ulster and the Protestant, conservative Democratic Unionist Party (DUP).
Paisley's widow said his funeral would be private and attended only by his immediate family, as would be his burial, in accordance with his wishes.
A memorial service will be held later this year.
Politicians in Belfast, London and Dublin paid tribute to Paisley's impact during a lifetime in Northern Irish politics, which saw the reverend finally relent on a hitherto implacable intransigence.
Sinn Fein's Martin McGuinness, the ex-IRA commander who entered government with Paisley as deputy first minister — a post he still holds — voiced his sadness at the unionist titan's passing.
"I developed a close working relationship with him which developed into a friendship, which despite our many differences lasted beyond his term in office," he said.
Paisley's groundbreaking deal with Sinn Fein and bonhomie with McGuinness — they were dubbed the "Chuckle Brothers" — cut the ground from underneath him, costing him grassroots support. He stepped down in June 2008.
Northern Irish First Minister Peter Robinson, Paisley's successor as DUP leader, described him as a "colossus in unionism".
Paisley led "through difficult times where the unionist community in Northern Ireland was under attack from terrorism and felt that their constitutional position was imperilled, right through from those dark days to the relative peace and security that we have at the present time."
British Prime Minister David Cameron said Paisley had been a "controversial figure" for much of his career.
"Yet the contribution he made in his later years to political stability in Northern Ireland was huge," he said.