First-ever undersea villa opens in luxury hotel in Maldives
The undersea suite is connected to the top deck by a spiral staircase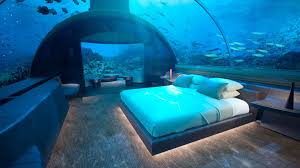 Guests can now enjoy sleeping in the company of the fishes at the Conrad Maldives Rangali Island, thanks to the world's first-ever undersea villa opened by the luxury resort. It will cost $50,000 (Dh184,000) a night.
The villa has two decks: the lower deck sitting five meters (16ft) beneath the waves. It has a bedroom, living space and bathroom and, of course, swathes of glass so that guests can gaze at the colourful local sea life swimming past, wherever they are in the complex, a Daily Mail report pointed out.
The $15million suite, named the Muraka, will offer guests unparalleled views of the Indian Ocean. It can accommodate nine guests in all.
Architects of the Crown Company designed the residence and New Zealand-based M J Murphy Limited, which specialises in aquarium technology, built it.
The undersea suite is connected to the top deck by a spiral staircase, the report added.
On the top, there's a twin-size bedroom, bathroom, powder room, gym, butler's quarters, private security quarters, integrated living room, kitchen and bar.
A dining room with a deck faces the direction of the sunset. On the opposite side of the villa sits a relaxation deck that faces the direction of sunrise and an infinity swimming pool, the report said.
The upper level also houses an additional king-size bedroom and bathroom, with an ocean-facing bathtub.
Ahmeed Saleem, the chief designer of the residence, was quoted as saying in the report: "Driven by our inspiration to deliver innovative and transformative experiences to our global travellers, the world's first undersea residence encourages guests to explore the Maldives from an entirely new perspective below the surface of the sea."