First group of 12,000 Syrian pilgrims arrives in Makkah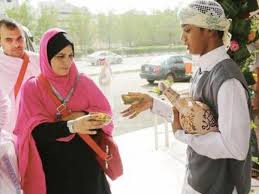 The first group of 319 Syrian pilgrims arrived in Makkah on Tuesday. They were welcomed in the holy city by the officials of the Tawafa Establishment for Arab Pilgrims with Zamzam water, flowers, meals and various other gifts.
About 12,000 Syrian pilgrims are expected to perform Haj this year. They will be coming from Syria and four other countries — Lebanon, Jordan, Turkey and Egypt — under arrangements made with the Syrian National Coalition.
The establishment will host about 300,000 pilgrims from 19 Arab countries. A total of 1,171,438 pilgrims from outside have arrived in Saudi Arabia until Tuesday.
Meanwhile, 500 Palestinians who will perform Haj as guests of the Custodian of the Two Holy Mosques have left Gaza on Wednesday in a convoy of 10 buses. They will travel to Cairo airport via Rafah border crossing with Egypt and from there to King Abdulaziz International Airport in Jeddah.
The pilgrims are part of about 1,000 relatives of Palestinian martyrs the King will host for this year's Haj.
The Kingdom hosted more than 14,000 family members of Palestinian martyrs for Haj since the King's hospitality program launched in 2009.
Palestinian and Saudi guides will be on board each bus to provide the pilgrims with guidance throughout their 30-hour journey.
A similar number of Palestinian pilgrims from the West Bank will assemble in Jericho to proceed to the Kingdom on Saturday through King Hussain Bridge in Jordan. The pilgrims will travel overland to Jordan's Queen Alia airport and then fly to Jeddah.
The King's hospitality program is managed by the Ministry of Islamic Affairs, Endowments, Call and Guidance.
A total of 2,000 Palestinian pilgrims were hosted in the first year of the program. From 2013 onward, the number of the Palestinian pilgrims was reduced to 1,000 and limited to families of martyrs.
As many as 370 people are stationed at airports, holy sites and hotels in Makkah and Madinah to ensure that the Palestinian pilgrims are well served.
In Mina and Arafat, 156 tents have been constructed over 4,500 square meters to accommodate the pilgrims, and 11 doctors are on call to provide them with medical services.