First hijabi BBC presenter takes off her headscarf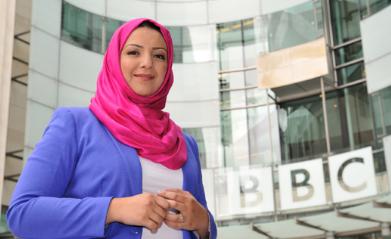 The BBC reporter Shaimaa Khalil has written about how she decided to take off her hijab.
In an article on the BBC news website she says: "I didn't start wearing the headscarf until I was in my 20s – and I wasn't forced to do it – despite several years of pressure from my mother… But deep down it was becoming ingrained in me that wearing the headscarf was the right thing to do. So, towards, the end of 2002 I decided it was finally time to 'do the right thing'.
"So in the next ten years, during which I moved to London and started working at the BBC, I wore the hijab. My motto was: 'I'm a BBC journalist, not a headscarf-wearing BBC journalist.' There were some raised eyebrows outside the corporation when I appeared on TV. 'How could the BBC allow a woman in a headscarf to go out reporting?' Fortunately, that was never an issue with any of my editors.
"Then, last year, I went through a very personal and private journey of questioning many things about my religion: about practice and belief, what was I doing out of conviction and what out of habit? How much of my faith did I want to exhibit? Would I, I asked finally and crucially, be any less Muslim if I took off the headscarf? The final answer was no.
"So, after months of indecision, the day came when I'd decided to remove it. It took me hours to get dressed and when the time came when I'd normally put the headscarf on, I just didn't. For the first time in more than ten years I started considering my hair. Did it look right? What about those grey hairs? What would happen if it rained?
"Finally it was time to leave the house. That was very difficult. It took me 30 minutes just getting out of the door. I kept running back to the mirror. Are you sure? Are you sure? When I finally made it out onto the street, a million thoughts went through my head. Perhaps God would punish me for this – somehow. Would people on the street look at me and say 'Shaimaa! What have you done?'
"Well of course none of that happened. Most of my friends, family and work colleagues were supportive, if curious. Some were disapproving. I was accused on social media of abandoning my religion. That's simply not true. I am still Muslim – just not so visibly."
Egyptian-born Khalil began her career in Broadcast Journalism in the Gulf state of Qatar. Originally a radio presenter for Qatar Broadcast Service, she moved onto television, presenting the news, before relocating to London to complete her degree in Broadcast Journalism.
Gaining work experience with the BBC, she kick-started her career, earning herself freelance work upon graduation. She has since traveled with the BBC covering the uprisings in Libya, Egypt and Saudi Arabia.