First PEGIDA 'anti-Islamization' rally staged in Britain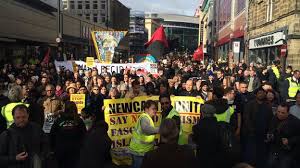 The German-based PEGIDA movement, which opposes what it calls the "Islamization" of Europe, was staging its first demonstration on British soil on Saturday.
On Facebook, more than 800 people indicated they would attend the rally in Newcastle, northeast England.
"It's about integration. We are not anti-Islam. We are not here to split up any communities," PEGIDA's spokeswoman in Britain Marion Rogers said, according to the BBC.
"We've invited Muslims to join us against extremism, extremism of any kind. I don't think it's wrong to stand up to terrorism. Is that hate?"
The Patriotic Europeans Against the Islamization of the West movement drew up to 25,000 people in German street rallies last month.
PEGIDA-inspired protests have also taken place in Austria and Sweden, though the small crowds were dwarfed by counter-demonstrations.
A counter-rally is planned for the Newcastle march, with prominent left-wing firebrand lawmaker George Galloway pledging to attend.
"It is absolutely extraordinary that a German organization sets up in the UK — it's not as if there is a lack of right-wing nutter organizations here," he said."They have got to be opposed, wherever they are."
The English Defense League, a homegrown British group that protested against the perceived threat from Islamic extremism, held a number of protests throughout 2013, which often ended in clashes with anti-fascist demonstrators.
But the group has lost momentum since its leader Tommy Robinson quit in October that year, saying he could no longer keep "extremist elements" in the group at bay.
In Newcastle, football fans are also heading to the city as Newcastle United host Aston Villa in an English Premier League match at their 52,000-capacity St James' Park stadium. The rally goes close to the venue.
The local Northumbria Police force said the demonstration should not disrupt normal activity in the city center.
"The force respects the right to peaceful protest and takes a neutral standpoint, not supporting or endorsing any groups or individuals," said Newcastle Chief Superintendent Laura Young.