First phase of Ijtema concludes with akheri munazat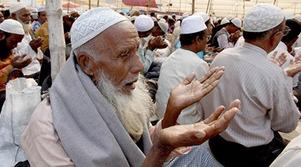 The first phase of three-day Biswa Ijtema concluded with the 'Aheri Monazat' held at the bank of river Turag this morning.
Hundreds of thousands of Muslims gathered at the Ijtema ground in Tongi of Gazipur.
The akheri munazat, seeking the peace, prosperity and development of the Muslim ummah, began at 11.15am and concluded at 12 noon today.
Noted Indian Islamic scholar Mawlana Saad Akheri conducted the akheri munazat.
President Abdul Hamid, his wife and other family members participated in the munazat from his official residence Bangabhaban.
Prime Minister Sheikh Hasina participated in the munazat from her official residence Gano Bhaban this morning.
Besides, Leader of the Opposition Begum Rawshan Ershad participated in the munajat from her own residence and Bangladesh Nationalist Party (BNP) chairperson Begum Khaleda Zia also participated from her Gulshan office here.
To participate in the munazat, scores of people ignoring the cold gathered at the Ijtema venue from early hours of Sunday.
Huge crowd was seen after the munazat on different transport modes including bus and train which were leaving Tongi towards different parts in the country.
Bangladesh Railway introduced some special train service on certain routes from Tongi after the akheri munazat.
The second phase of the Biswa Ijtema would begin from January 16 where several lakh muslims from the rest 32 districts would participate.