Five confirmed dead in UK explosion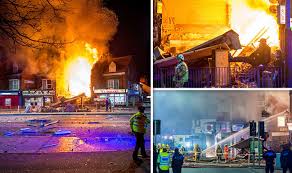 Five people have been killed in an explosion that ripped through a shop in Leicester, England on Sunday.
The explosion took place shortly after 7.00 p.m. local time, with Leicestershire Police declaring it a "major incident".
Police cordoned off the scene and surrounding roads, asking people to avoid the area.
Five people were taken to a nearby hospital in a "critical condition," East Midlands Ambulance Services said shortly after the incident.
Police said in a statement that they do not know the cause of the explosion but they believed the incident was not terror related.
"It is a dangerous scene so trained officers from the fire service and police took over as soon as possible," Shane O'Neill from the local police said.
"There are four confirmed fatalities at this stage and a number of people still undergoing treatment in hospital," he said.
"The building consisted of a shop premises on the ground level and a two-storey flat above it. We believe there may be people who have not yet been accounted for and rescue efforts continue in order to locate any further casualties."
" … it is a joint investigation between the fire service and the police and the priority is to make the area safe," he added.
The explosion has reduced a shop and above flats to rubble.