Flash floods claim 15 lives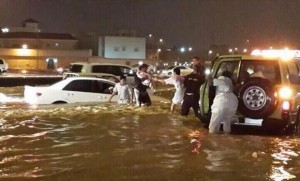 At least 15 people have died and eight others are reported missing in flash floods caused by heavy rains in Riyadh and other parts of the Kingdom in the last 24 hours.
The Civil Defense Department said Monday that it had received more than 7,000 calls for help from different regions following rains. "We have rescued over 800 stranded people, while 450 vehicles have been pulled out from flooded areas," it said in a statement. The department has urged the public to be cautious following weather forecasts for more rains in the next three days.
Col. Saeed Sarhan, the department's spokesman in Makkah, said the Presidency of Meteorology and Environment has forecast the formation of thunderclouds over the southern Makkah region, Qunfuda and Al-Laith, as well as Makkah and Taif.
Deaths resulting from rain-related accidents were reported across the Kingdom, sources said.