Former President APJ Abdul Kalam Dies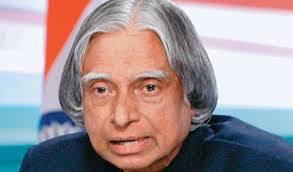 Former President APJ Abdul Kalam died on Monday at a hospital in Meghalaya, where he had gone to deliver a lecture at the Indian Institute of Management in Shillong, reports Press Trust of India. He was 83.
Dr Kalam reportedly collapsed on stage at the IIM and was rushed to the Bethany hospital. Doctors say he suffered from a massive cardiac arrest.
Dr Kalam — the 11th President on India between 2002 and 2007 — was born in Rameswaram on October 15, 1931, to the family of a boatman.
Home Minister Rajnath Singh tweeted, "Deeply saddened at the sudden demise of the former president of India Dr. APJ Abdul Kalam. He was an inspiration to an entire generation."
He played a pivotal role in India's Pokhran-II nuclear test in 1998, the first since the test by India in 1974. He was known as the missile man of India.
For his achievements, he was awarded the Padma Bhushan and Bharat Ratna, and then he became the 11th President of India in 2002.