France-Saudi sign €10bn worth deals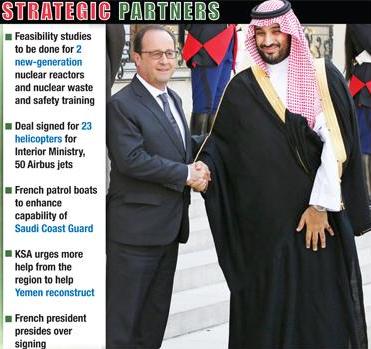 France on Tuesday announced a series of deals worth 10 billion euros ($11.4 billion) with Saudi Arabia, during a visit by Prime Minister Manuel Valls.
"France-Saudi Arabia: 10 billion euros in contracts," he wrote in a tweet.
The deals include contracts and letters of intent between the two countries whose economic and political bonds have been strengthening.
Among the agreements is a Saudi order for 30 patrol boats.
The deals also cover energy, health, food, satellites and infrastructure, according to the prime minister's office.
The announcement came during the third high-level visit by French officials to the world's biggest oil exporter this year.
France has been reinforcing links with the conservative Islamic kingdom — the Arab world's largest economy — despite persistent criticism from rights activists of the kingdom's record on civil liberties.
For Saudi Arabia, expanding ties with France are part of an effort to build alliances beyond its traditional defence partner the United States, to counter Riyadh's regional rival Iran.
Valls on Monday night opened a forum to promote commercial ties between firms from the two countries.
He is on a regional tour which earlier took him to Jordan and Egypt, along with Defence Minister Jean-Yves Le Drian and Foreign Minister Laurent Fabius.