French magazine's fresh anti-Islam insults flayed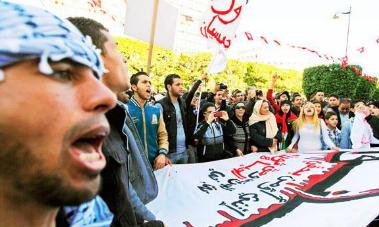 Muslim scholars in the Middle East who have denounced last week's attack on Charlie Hebdo criticized the French satirical weekly on Wednesday for publishing new blasphemous cartoons in its first issue after the killings.
While mainstream Muslim leaders around the world have strongly condemned the attack on the newspaper, many said its decision to print more cartoons was an unnecessary provocation and sign of disrespect that would create a new backlash.
Algeria's independent Arab language daily Echorouk responded with a front page cartoon of its own, showing a man carrying a "Je suis Charlie" placard next to a military tank crushing placards from Palestine, Mali, Gaza, Iraq and Syria.
In Iran, a leading conservative cleric, Grand Ayatollah Nasser Makarem-Shirazi, said the publication of new images "amounts to declaring war on all Muslims".
Many people on the streets in the Middle East said it was time to move on. "The cartoons have no meaning, they should not affect us. We as Muslims are bigger and stronger than some cartoon. We should not pay attention, and if we react we should react with word for word and cartoon for cartoon," said Samir Mahmoud, a retired engineer in Cairo.
Emad Awad, a Christian in Cairo, said he understood the anger of his Muslim neighbors but hoped there would be no more unrest.
"I reject completely that pictures of the prophet be published anywhere, but they've made their decision to do it yet again, to show their freedoms aren't changed," he said.
"Now that they've made their point, I really hope this is the last time they do this. I don't think it will lead to more violence, but they missed an opportunity to leave the subject in the past and move forward."
India's leading Muslim group Jamaat-e-Islami Hind strongly condemned the magazine's move.
"Even before the French government could make public the result of the probe into the terrorist attacks and conspiracies behind it, the magazine has announced to republish the controversial cartoons just to hurt the religious sentiments of world Muslims," said Nusrat Ali, JIH secretary-general.
He said Charlie Hebdo's decision was extremely irresponsible and mischievous and aimed at spreading hatred toward Islam and Muslims in Europe and other parts of the world. "The French government's failure to stop the uncivilized acts of the magazine make its intention doubtful."
Iran termed the move "insulting" and "provocative".
Foreign Ministry spokeswoman Marzieh Afkham said the killings in Paris bore "no closeness or similarity to Islam" and were "in complete contradiction to Islamic teaching," she said.
However the new cartoon "provokes the emotions of Muslims around the world and hurts their feelings, and could fan the flame of a vicious circle of extremism," she told reporters.
Afkham said it was an "abuse of freedom of speech, which is common in the West these days."
"We condemn provocative moves and we regard the move by this weekly as being insulting," Afkham said, describing it as "not acceptable" and arguing that such "abuse should be prevented."
"Respecting the beliefs and values of followers of divine religions is an acceptable principle," she added.